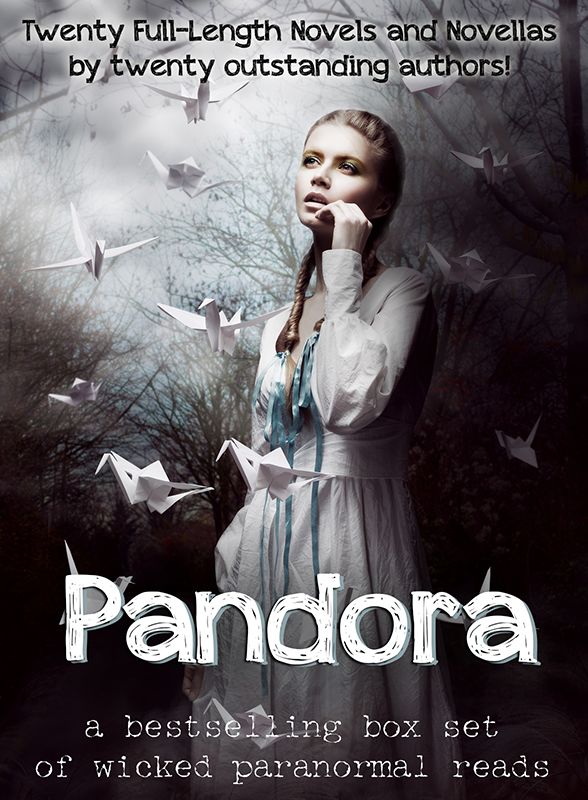 Title: Pandora Box Set Author: Angela Fristoe, Apryl Baker, Carole Lanham, Christi Goddard, Conner Kressley, DelSheree Gladden, Heather Kenealy, Kelley Anne Blount, Laura Howard, Louise Caiola, Noree Cosper, Peter Dawes, Rachel Walter, Rainy Kaye, Rebecca Hamilton, Riley J Ford, Samantha LaFantasie, Steven Katriel, Susan Stec, Thomas Sullivan Genre: Paranormal // Urban Fantasy // Horror Publish Date: August 5, 2014 Publisher: Indie Published Event organized by: Literati Author Services, Inc.
~ Book Synopsis ~
**COMPLETE BOOKS! NO CLIFFHANGERS!**
PANDORA
, a best-selling box set of wicked paranormal reads, is brought to you by twenty exciting, best-selling, and award-winning authors! Ready for a touch of magic? Whether you love paranormal in the form of romance, suspense, mystery, horror, or fantasy, this box set will have something to entice your preternatural sensibilities. Supernaturally thrilling and engaging, this box set has it all: ghosts, vampires, mind-readers, shape-shifters, demons, faeries, werewolves, and more. For a limited time, you can enjoy books from today's New York Times, USA Today, Amazon and Barnes & Noble bestselling authors and many more. We have everything from titles that are slated for the big screen to stories from Pulitzer Prize and Bram Stoker Award Nominees! When purchased separately, these books cost over $50! But they are your's today for less than $1. Professionally formatted, no cliffhangers, and no short stories. Every selection in this rare, limited edition paranormal box set are full-length novels and novellas! A few are "First in Series," but we carefully selected only those which can still be enjoyed as a standalone!
Riley J Ford
, New York Times and USA Today Bestselling Author:
INTO YOU
What if you could know exactly what your friends are thinking? High school student Winter Reynolds can, but there's a catch... She can only read people's thoughts when she's kissing them.
Rebecca Hamilton
, Amazon Best-Selling and Film-Optioned Novelist:
HER SWEETEST DOWNFALL
Ophelia's initiation into the supernatural council won't be complete until she kills the man she loves.
Apryl Baker
, Amazon Best-Selling and Film-Optioned Novelist:
THE AWAKENING
Snap...crackle...pop. The sounds of bones breaking and shifting and of muscles tearing haunt Alexandria Reed. Aided by her new friends, who have some dark secrets themselves, can she and Jason survive long enough to figure out the secret behind the secret?
Carole Lanham
, Amazon Best-Selling Author and Bram Stoker Award Nominee:
CLEOPATRA'S NEEDLE
"There are monsters in this world, I've learned, and sometimes I have fallen victim to them and sometimes I have been one." A story of Welsh witchcraft, love, and murder.
Thomas Sullivan
, Pulitzer Prize Nominee:
THE WATER WOLF
A global quest by a cynical adventurer searching for links in a colossal subterranean network he has stumbled upon lead him from the ancient fortress at Cuzco, Peru, to the Pyramids of Giza to a dangerous churchyard in Connemara, Ireland, where he falls in love with a woman of more than mortal roots and encounters the strange magic of a small village.
Rainy Kaye
, Amazon Best-Selling Author
: SUMMONED
A dark twist on genie folklore, SUMMONED follows a reluctant criminal as he unravels the mystery of the paranormal bond controlling him.
Laura Howard
, Amazon Best-Selling Author:
THE FORGOTTEN ONES
Truths have a way of revealing themselves. Secrets will eventually surface. And Allison must learn to set aside her plan and work with her father if there is even a small chance it could restore her mother's sanity.
Noree Cosper
, B.R.A.G. Medallion Honoree:
A PRESCRIPTION FOR DELIRIUM
Demons, werewolves, possessed bikers, madness spreading like a virus, and a revenge that has waited for over five-hundred years. What more could Gabby look for in a vacation spot?
Louise Caiola
, Amazon Best-Selling Author:
WHAT TRULY KNOWS
She was born with the Magical Knowing – a gift, some said. A curse, said others. But for Truly, it was the very thing meant to save her life. If it didn't kill her first.
Kelley Anne Blount
, Amazon Best-Selling Author:
SHADE
Coming Soon!
Susan Stec
, Amazon Best-Selling Author:
DEAD GIRLS NEVER SHUT UP
Toni's grandmother is a psychopath. Her sister is a ghost. Her boyfriend is possessed. And she has no idea who she is.
Christi Goddard
, Amazon Best-Selling Author:
FOUR IN THE MORNING
When a smart-ass magical creature invades Kathleen's life, a boy she hates turns up dead and her mother goes missing.
Steven Katriel
, Amazon Best-Selling Author:
THE PORTRAIT OF ALATIEL SALAZAR
When Gabriel Holland's beloved Helena vanishes from his life, he journeys to the home of disgraced artist Cristian Salazar, the man he holds responsible for her disappearance and the death of several friends.
Heather Kenealy
, winner of MTV's "Stan Lee presents the Seekers" contest and Cinescape's Short Story Contest:
THE TRAITORS' TRILOGY
Betrayal comes with a price. For these betrayers, it also comes with an opportunity.
Peter Dawes
, Blogger Book Fair Reader's Choice Award winner:
EYES OF THE SEER
It all started with a murder, but what laid in wait would turn a man into a monster.
DelSheree Gladden
, Amazon Best-Selling Author:
INVISIBLE
Being invisible won't hide Mason for long. with...
Angela Fristoe
:
LIE TO ME
As a Truth Teller, Phoebe knows a lie when she hears it. Knowing what to do when her best friend lies is the problem, because in lies, intention is everything.
Conner Kressley
:
THE BREAKER'S CODE
Cresta's the kind of girl who thinks everything is the end of the world. Turns out, she might be right.
Samantha LaFantasie
:
MADE TO FORGET
After waking up in a hospital with no memory, Elsabetha quickly learns those who claim to be her friend are anything but.
Rachel Walter
:
TRUE CONNECTION
With the help of supernatural friends and protectors, Jazzy thinks she's safe until what remains of her family is put in danger. Does she have what it takes to save her family, life, soul, and soul mate, or will all be lost? Save over $50! This set is only available for a limited time, so order your copy before it's gone
Do you dare to open Pandora's Box?
Purchase Links
Featured Authors
Title
: Summoned
Author
: Rainy Kaye
Genre:
Paranormal/Urban Fantasy
Publish Date
: March 28, 2014
Publisher
: Immortal Ink Publishing




Synopsis
Twenty-three year old Dimitri has to do what he is told—literally. Controlled by a paranormal bond, he is forced to use his wits to fulfill unlimited deadly wishes made by multimillionaire Karl Walker. Dimitri has no idea how his family line became trapped in the genie bond. He just knows resisting has never ended well. When he meets Syd—assertive, sexy, intelligent Syd—he becomes determined to make her his own. Except Karl has ensured Dimitri can't tell anyone about the bond, and Syd isn't the type to tolerate secrets. Then Karl starts sending him away on back-to-back wishes. Unable to balance love and lies, Dimitri sets out to uncover Karl's ultimate plan and put it to an end. But doing so forces him to confront the one wish he never saw coming—the wish that will destroy him. A dark twist on the genie folklore, SUMMONED follows a reluctant criminal as he unravels the mystery of the paranormal bond controlling him. SUMMONED is represented by Rossano Trentin of TZLA. Note: SUMMONED contains strong language, naughty scenes, mature content, terrible wishes, mystery, violence, discomfort, explosions, and an apple.
Excerpt
SUMMONED
by Rainy Kaye
I dislike having to murder someone. Kidnapping is worse. At least when I setup a kill, I know what's coming. No connections, no honesty, no surprises. Everything I say and do are just steps to luring in my victim. Once the victim falls right into the trap, the next move is swift: crushed windpipe, fatal concussion, or a good ol' fashioned headshot. Kidnapping, on the other hand, is a little trickier. First, the victim has an opportunity to respond. I don't like this. Sometimes they cry. Sometimes they manage to alert the authorities. And sometimes they escape, usually by inflicting bodily harm on me. Dead people don't retaliate. Kidnapped ones, well, they're a little more . . . lively. The second major difference between killing and kidnapping is my conscience. I get in and out with a kill. We have no chance to bond. Abductees require a little more one-on-one. As much as I try to keep the switch turned off, I can't help but listen to their pleas and demands. And I usually realize I'm a jerk That's exactly where I find myself one late afternoon in June. I prefer doing this at night, but moreover, I would prefer not doing this at all. Instead, I have a belligerent nine year old girl sitting in the passenger seat of my Honda Accord, shackles on her wrists and ankles and a small stuffed bunny on her lap. She's eying me in a way that makes me self-conscious. Like I'm the bad guy. Probably because I am the bad guy.
About the Author
Rainy Kaye is an aspiring overlord. In the mean time, she blogs at RainyoftheDark and writes paranormal novels from her lair somewhere in Phoenix, Arizona. She is represented by Rossano Trentin of TZLA.
Connect with the Author
Facebook | Twitter | Website Author
Title:
A Prescription for Delirium (A Van Helsing Organization #1)
Author:
Noree Cosper
Genre:
Paranormal/Urban Fantasy
Publish Date:
Nov. 27, 2012
Publisher: Indie Published
Event organized by
:
Literati Author Services, Inc.




~ Book Synopsis ~
Ninety years ago, Gabriella di Luca promised to protect the family of her dying lover. She failed to keep that promise. She was too far away to stop the devil that murdered the eldest Van Helsing son. Years later, Gabby learns the devil has resurfaced. She arrives in Hampton, TX, determined to stop the devil before it can lay a bloody hand on the remaining three brothers. However, madness is spreading through Hampton. She suspects the devil is using this madness to test a drug which has a side effect of demonic possession. Gabby rushes to end the source of the madness only to fall victim to it. For a woman cursed with eternal life, dying is no threat. However, Gabby must stop the devil's plot or risk losing her most precious possession: her mind.
Excerpt
PRESCRIPTION FOR DELIRIUM
by Noree Cosper
He dug a cigarette out of a wrinkled pack. The lighter clinked open and made several click sounds before a flame flared to life. The world around me dimmed. Tendrils of darkness stretched out from his shadow, consuming all other light. "I hope you don't sleep with the night light on," he said. "What the fuck?" the woman said. "Stay where you are," I called to her. "I can smell the rage on both of you." Tattoo's voice floated around me. "I think I'll be taking an added bonus home." I froze, trying to pinpoint him, but it proved impossible to do through all the yells of the bikers and the scrambling. The crack of a gunshot blared ahead of me. The flash of light lasted less than a second before the dark swallowed it. The wind ruffled my hair as the bullet passed close to me. I jerked back, and my hand brushed against leather behind me. Damn, he moved fast. I leaped forward and stumbled over a body on the ground. My knee jarred as it caught the brunt of my fall. Tendrils, colder than ice, wrapped around my ankles and wrists. The weapons slipped from my numb fingers, but I didn't hear them hit the ground. The bonds lifted me into the air and threw my back against the wall of the motel. My arms were pulled above my head, yanking the right one out of its socket. I screamed as pain raced through my shoulder. I twisted my other arm, trying to slip it free, but the bonds held me tight. My heart sped up, and my throat began to close, making my breath come in small gasps. I had to calm down. I stilled and closed my eyes. What good were they at the moment? I inhaled, counting to ten before releasing, and rubbed my fingers together, relieved when they began to tingle. Tattoo's body pressed against mine. His hot breath on my face reeked of tobacco and just a hint of sulfur. Most people missed the sulfur, but I'd been in this position before. This is where they became cocky. "So, sweetness, Why are you hunting us?" he asked. "And what are you gonna do to make up for it?" Sirens wailed in the distance, cutting through the panicked voices. The blackness faded, and the night returned to normal. Tattoo stood a few feet in front of me, inhaling the last few drags of his cigarette as he stared off in the direction of the sirens. He blew the fumes into my face, and I coughed, squeezing my eyes shut for a second. I started when he stumbled into me. He staggered back with a moan, his hand going to his lower back, and he spun to the mystery woman behind him. The woman stepped back in a fighting stance with a smirk. "Don't forget about me, asshat," she said. "Bitch!" Tattoo said. "You'll pay for that." "You gonna make me ugly?" Mystery Woman asked. A growl rolled out of the Tattoo's throat and he lunged at her. The woman moved to the side and held her foot out. Her leg came up in an axe kick that hit the back of the demon's head as he bumbled forward. My bonds disappeared and I dropped to the ground. I landed on my feet, swallowing a whimper as I jarred my shoulder. Tattoo backed away from both of us with a scowl on his face. "This isn't over." He ran for his bike with his lackeys bumbling after him, at least the ones who could move. I gathered my weapons, fumbling with one arm as I tried to sheathe them. The woman chased after the bikers but stopped short when pock face raised the gun at her. He held her there until Tattoo disappeared down the road in the opposite direction of the sirens. "Do you even know how to use that?" I moved up behind the woman, holding my useless arm to my body. "S-stay where you are," he said. The woman moved, but I grabbed her arm. She swung her head in my direction with her eyes narrowed. Pock-face hopped on his bike and started it up. "He's not the demon, and a rather pathetic biker," I said. "Too easy for you." "And I'm supposed to listen to the masked avenger because?" I blinked for a moment at her odd comment. "Do you wish to get arrested?" She mumbled. "Grab your gun, and let's go." I led her through a hall that cut between the front of the motel and the back. No one followed us. The bikers were too busy trying to get themselves out of this mess, and the other guests didn't want to get involved. The door to my room clicked shut behind her and I flattened her against the door with my knife to her throat. "If you move anything but your mouth, I will bury my blade in your neck," I said. "Who do you serve?"
About the Author
Noree Cosper loves writing about magic in the modern world. While growing up in Texas she constantly searched for mystical elements in the mundane. She buried her nose in both fiction and books about Wicca, Religion, and Mythology. Everyday became an adventure as she joined a group of role-players, acting out her fantasies of vampires, demons, and monsters living in the world. She embraced her nerdom wholeheartedly. Noree grew, but never left her love for fantasy and horror. Her dreams pushed her and her hand itched to write the visions she saw. So, with her fingers on the keys, she did what her heart had been telling her to do since childhood. She wrote.
Connect with the Author
Giveaway $50 Gift Card
Add a comment »